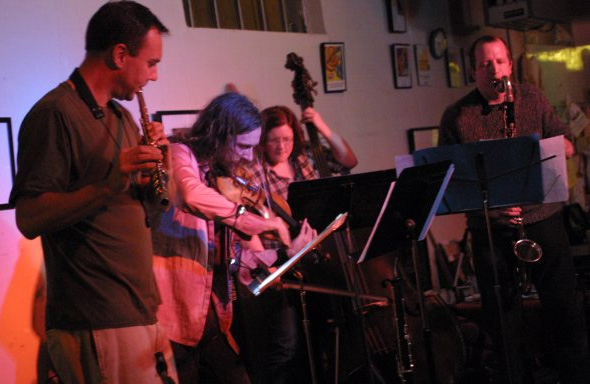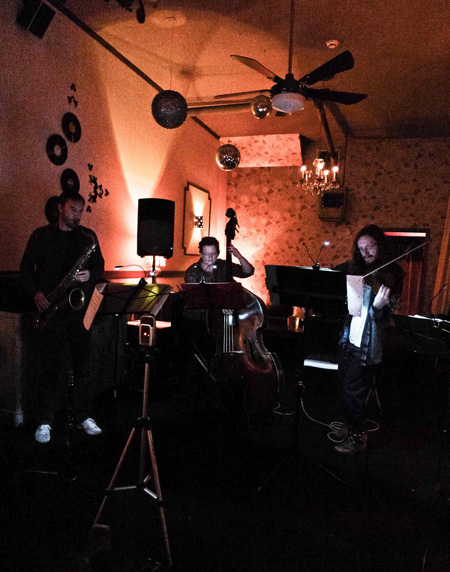 Bristle's unique sound is a fortunate accident: when saxophonists/clarinetists Cory Wright and Randy McKean asked bassist Lisa Mezzacappa to join them in 2009 to perform their original compositions, they were looking for a drummer to round out the quartet. A set of Spinal Tap-ish circumstances led them instead to draft violinist/oboist Murray Campbell, and this one-of-a-kind strings-and-reeds ensemble was born.
Bristle combines an intuitive chamber music sensibility with an off-kilter improvisational approach, seamlessly mixing fierce solo statements with intricate group textures in its pieces. The group explores the relation between written and open material, continually experimenting with popular song and through-composed forms. Wheezing accordions, errant looping machines, the kids' game Butts Up, typographic glyphs, Donkey Kong Level 3 (the one with the elevators) and Monty Python's Dead Parrot sketch all serve as inspirations for Bristle's compositions, as does individual members' past work with Yusef Lateef, Anthony Braxton, and Henry Threadgill.
Bristle's collective sound is enhanced by its members' long-time history of collaboration with one another. Wright and Mezzacappa are ubiquitous members of the Bay Area creative music scene, and perform together as members of the Oakland Active Orchestra, Mezzacappa's group Nightshade and Wright's ensemble Green Mitchell, among others. McKean and Campbell are members of several ensembles in their Sierra Foothills hometown of Nevada City, including the Balkan-tinged ensemble Chickenbonz and the café band Beaucoup Chapeaux.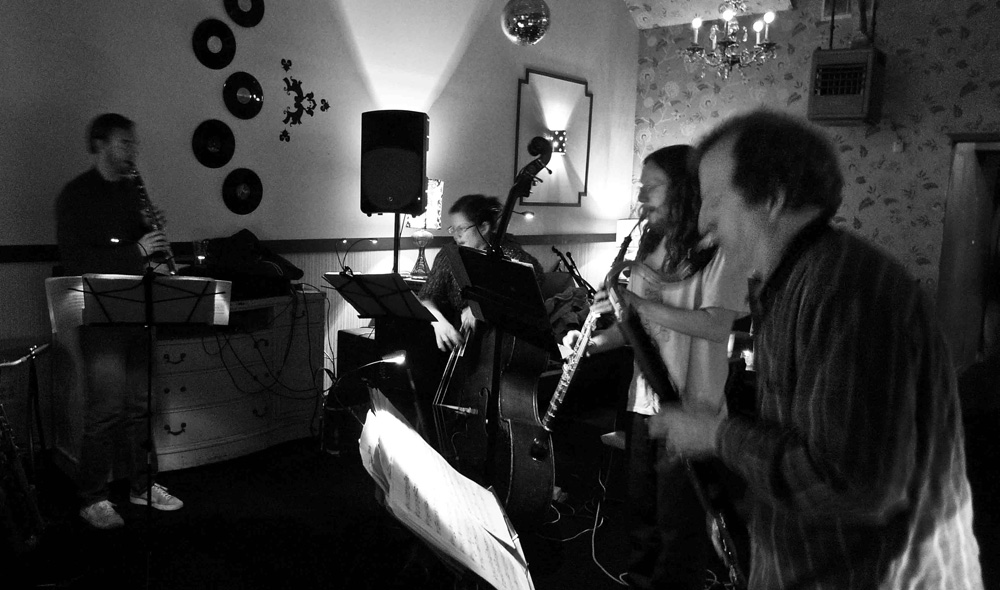 Audio
Live @ Studio A KDVS 2012-05-17
Video
07-02-2015 at Gold Lion Arts

12-06-2014 at Maybeck Rectial Hall

05-26-2014 at Berkeley Arts

05-13-2012 at In the Flow Fest